Natural Stone Care
Use a neutral, pH-balanced cleaner, specially formulated for stone on a regular basis to remove residues from cooking oils and everyday food spills, as well as hairspray or other cosmetics. Be careful with common foods and drinks contain acids that may etch or dull the stone surface. Also, some common toiletries (i.e., perfume, toothpaste, mouthwash) contain acids and other ingredients that may damage the stone surface or degrade the sealer.
Recommended Products
Revitalizer® Cleaner and Protector
Stone & Tile Cleaner
What to do When a Spill Occurs?
No matter how careful you are, spills are going to happen. A quick response and the right solutions can keep spills from damaging your stone or degrading the sealer.
What to do When a Spill Occurs?
No matter how careful you are, spills are going to happen. A quick response and the right solutions can keep spills from damaging your stone or degrading the sealer.
Etch Marks
Highly acidic substances such as orange juice, coffee, vinegar, wine, tomato products, mustard and many soft drinks will "etch" most marble, limestone and travertine. Sealing allows you time to wipe up a spill, but it cannot stop the chemical reaction that may leave a dull mark.
General cleaners not specifically designed for natural stone are not recommended. These may etch away the polish, discolor the surface, scratch the stone or degrade the sealer. Professional refinishing is the best way to permanently remove etch marks and restore your natural stone's even finish.
Food Spills
Scoop up the food with a plastic spoon. Blot with dry, white cloth. Spray the area with a neutral stone cleaner and wipe off excess with a clean cloth.
Liquid Spills
Blot away the excess with a clean, dry, white cloth while turning the cloth frequently. Spray the area with a neutral stone cleaner and wipe off excess with a clean cloth.
Oils Spills
If you identify the stain as having an oil base (from foods like salad, cooking oils, butter or some cosmetics) you may be able to remove the stain using a poultice. A poultice will pick up the stain from deep within the stone.
Note: Above instructions are for reference purposes only. Please follow label directions on back of actual product.
Quartz Stone Care
This finish requires simple and routine care to maintain. Cleaning with a damp cloth and a liquid detergent will do the job. Because quartz surfaces are impervious to stains it will withstand daily exposure. Just wipe away and the surface is like new again. If necessary, a non-abrasive cleanser such as Soft Scrub Liquid Gel with Bleach or Comet Soft Cleanser Cream with Bleach can be used. Adhered materials like food, gum or nail polish can be scraped away with a plastic putty knife.  Any marks left by the blade can be removed with Soft Scrub Liquid Gel. Thoroughly rinse the surface with clean water to remove residue.
Stubborn Stains or Dried Spills
Any multi-purpose cleaner or detergent can be used on these stains. For extra-stubborn spills, try using Soft Scrub gel with bleach on a cloth. If it still persists, use a non-abrasive scouring pad to shift the dirt. It won't damage the tough surface. Cleaning liquids like bleach are also good for removing stains that seem to be hard to remove at first.
Spot Removal
To remove adhered materials, first scrape away the excess with a sharp blade. If there are any gray metal marks on the surface one of the regular cleaning agents will remove it. Finally, wash and rinse the surface in the normal way.
Heat Resistance
Quartz surfaces can tolerate moderately hot temperatures for brief periods of time without being damaged. This makes our surfaces ideal for kitchens because an accidentally misplaced hot pot will not ruin the countertop. However, take care to avoid direct contact for a long time with very hot pots and always use a hot plate or trivet
Honed Finish
Quartz surfaces HONED FINISH will require more daily maintenance than our polished finishes. Since there is more exposed surface area with honed finishes, metal marks, finger prints and other signs of daily living will show on honed material. Most of these marks can be easily removed with little effort and cleaning products such as a white Scotch Bright pad, Windex and for tough stains, Softscrub with bleach.
Tough? Yes... Indestructable? No
As with any surface, Quartz surfaces can be permanently damaged by exposure to strong chemicals and solvents that undermine its physical properties. Do not use products that contain trichlorethane or methylene chloride, such as paint removers or strippers. Avoid any highly aggressive cleaning agents like oven/grill cleaner that have high alkaline/PH levels. Call your professional stone supplier, installer or restoration specialist for problems that appear too difficult to treat. Should your surface accidentally be exposed to any of these damaging products rinse immediately with water to neutralize the effect.
Finishing Options
Different  finishes of Natural Stone are:
Polished
Presents a mirror like, glossy surface, achieved by grinding, sanding and buffing.
Honed
Smooth but not glossy finish. Best for low maintenance and heavy traffic applications. This finish differs from the polished, in that the last step of buffing is eliminated. The stone therefore shows the subdued color but not the gloss.
Flamed
The flamed finish is achieved by subjecting the stone to a high temperature flame of a torch and burning most of the carbon content leaving textured quartzite with gentle coloration.
Brushed Finish
The brushed finish gives a textured rough look.
Leather
This finish gives the stone a suede look and feel. This texture is smooth but slip resistant.
Edge Profile Options
Edge granite, marble or natural stone profiles gives you that finished look your kitchen granite countertops or bathroom marble vanity needs.
If you are interested in designing an edge profile for your natural stone kitchen or bathroom countertops call today, we would be than happy to help you complete the finished look of your granite kitchen or vanity countertops.
Contact Douro Granite & Marble today.
See our selection of Edge Profiles!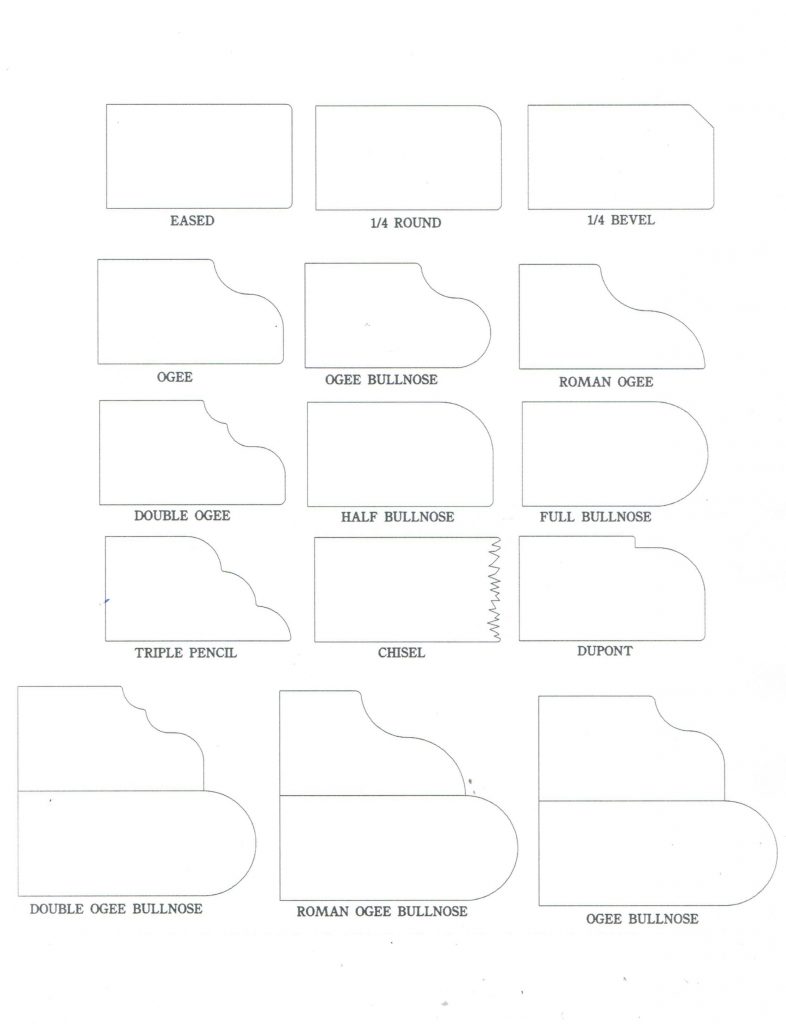 Stone in Your Home
You have many options when it comes to beautiful, long-lasting natural stone for your home's interior and exterior: slate, granite, marble, soapstone, limestone and quartz-based stone. Choosing a natural stone for your home is a very personal decision, much like selecting wallpaper or artwork. While there are many different colors and stones to choose from you need to decide which one works for you and your home. We at Douro Granite are more than happy to guide you through your project.
Stone Facts
Granite
Granite is an excellent choice for kitchen countertops, floors, and other heavily used surfaces. Granite, quarried from the mountains of Italy, Brazil, India, and many other countries, is one of the most popular natural stones on the market. Available in a striking array of colors, granite's durability and longevity make it ideal for kitchen countertops and other heavily used surfaces, including table tops and floors. While some synthetic surfaces scratch easily and melt under hot cookware, granite resists heat. Granite is also one of the most bacteria-resistant kitchen surfaces. It is also nearly impossible to scratch, and with proper cleaning, will not stain under normal use.
Marble
Marble is found in the mountainous regions of Canada, Italy, Germany, Spain the U.S and other countries. Because of its beauty and elegance, marble is a popular choice for countertops, floors, foyers, fireplace facings and hearths, walls and windowsills. Marble adds a sophisticated element to your home, and its wonderful appearance, superior engineering characteristics, and ease of maintenance make it a natural choice for floors, wall coverings, table tops and bathroom walls, floors, vanity tops, tub decks, and showers. Marble should be cared for as you would a fine wood finish. Using coasters on table tops and cleaning up spills immediately will preserve marble's natural beauty.
Travertine, Limestone, and Soapstone
Travertine is a type of limestone and one of the most popular natural stones for interior and exterior wall cladding, interior and exterior paving, statuary and curbing. Limestone is widely used as a building stone because it is readily available and easy to handle. Popular applications include countertops, flooring, interior and exterior wall cladding, and exterior paving. Soapstone is growing in popularity. Popular uses include kitchen countertops, bathroom vanities, fireplace surrounds, stoves and stair treads. Care and maintenance is easy, but different than other stone types.